In addition to our wide range of premium materials, we can also supply haulage solutions to better cater for your sites needs.
We can provide Articulated Tippers, 8 Wheeler Tippers, 4 Wheeler Tippers and 8 Wheeler Grab Vehicles which can be acquired per delivery or on a day work basis.
With an extensive list of dedicated sub contractors, as well as our own haulage, we can ensure that you receive the service you require.
Delivery Options
With a wide variety of vehicles at our disposal, we can ensure that we can supply you under any circumstance.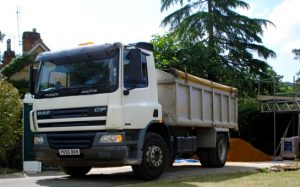 4 Wheelers
These smaller size vehicles can carry up to 11 tonnes of material and are perfect for sites with limited access which may be too tight for an 8 Wheeler Tipper.
Length – 7.60m, Width – 3.20m, Height – 3.50m
Height when tipping – 6.20m, Turning circle – 15.00m
8 Wheelers
The 8 Wheeler is the most common vehicle used for deliveries and is suitable for carrying up to 20 tonnes of material.
Length – 9.80m, Width – 3.20m, Height – 3.80m
Height when tipping – 9.00m, Turning circle – 25.00m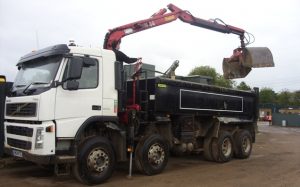 8 Wheeler Grabs
Grab vehicles are commonly used for collection materials from the ground when a loader is unavailable, but they are also useful for delivering to sites that may have obstructions to the tipping area such as low walls and fences. These vehicles can carry up to 16 tonnes of material.
Length – 9.10m, Width – 3.20m, Height – 3.80m
Height when operating – 5.80m, Turning circle – 25.00m
Maximum reach – 7.60m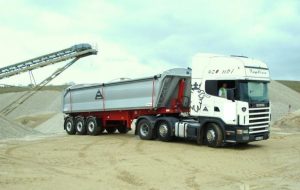 Articulated Tippers
Also known as "Artics" these vehicles are the largest and most cost effective haulage solution but are also the most difficult to gain access to site. These vehicles can carry up to 29 tonnes of material.
Length – 14.20m, Width – 3.20m, Height – 4.00m
Height when tipping – 11.00m
These dimensions are all based on the average vehicle provided and may be liable to change depending on which vehicle is used.
If you have any further questions or queries, please contact us for additional information